What's the most pivotal word in 2023 business communications? 
#Interconnectivity 
Welcome to SmartSpeech: a forum designed to ignite unique thought and nurture new ideas throughout The Smart Agency.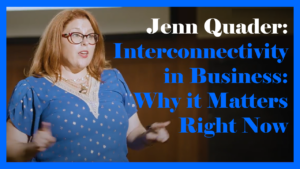 In this story-driven, Ted-Talk-inspired speech, our CEO Jenn Quader offers three communications strategies to help business leaders and commercial real estate communicators challenge preconceived notions, improve collective understanding, and remember important universal truths like interconnectivity that (surprisingly) speak directly to today's American business trends. 
This is the first to publish in our #SmartSpeech2023 series. Stay tuned for more videos to follow in the weeks ahead.