It was a Smartsational night! Congrats to #OCPRSA on a delightful Protos Award event. Click below for a sneak peek: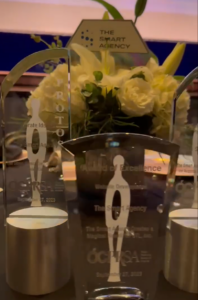 The Smart Agency took home top awards in 3 categories in the nationally judged competition. 💪🏻
It's a testament to the strength of our Clients and the amazing work we do together. 🏆🏆🏆
And what a night of fun with truly wonderful people. (The writer of this post simply must say, "I love you guys.")
You'll notice a special guest in our awards night sizzle reel…
Shoutout to our V of Operations, Renee – a major force of warmth, wisdom, and leadership on #TeamSmart who wasn't able to attend due to a scheduling snafu.
Renee, we brought you with us! 💙
It was a great evening celebrating the talents, creativity, and capabilities of our team and the incredible Orange County PR community.
What an honor to take part. Thank you, #OCPRSAProtos
#OCAwardsSeason #TheSmartAgency
#CommercialRealEstatePR #TeamworkMakesTheDreamWork #OCPRSA #PROTOS2023 #OCPRSADiamondJubilee.