A Client CEO recently asked: "What's your top advice for how we can improve our external communications?"
Our answer was surprising: "teach your people to speak up."
Thought leadership rises from within.
While The Smart Agency is expert in creating thought leadership for commercial real estate and financial services companies throughout the U.S., our real 'secret sauce' is that we work hard to develop our own opinions each day.
This strategy fuels our ability to listen, absorb, and interpret others' thoughts and business plans with more ease and clarity.
For example, as a nod to the recent distinction awarded to our CEO by commercial real estate media powerhouse, @GlobeSt.com, we hosted an internal Women's Roundtable discussion centered on an important question:
What does it mean to be a woman in business today?
Click below to hear some of our leaders speak up in this 3-minute video that will leave you inspired, and get you thinking: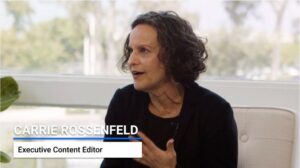 Why is this important?
The efficacy of business communications is weakened when we don't nurture our individual opinions.
Said more casually: if your people aren't thinking, your content's likely stinking.
The fix is to nurture individual and collective thought development.
And there's a solid bottom-line benefit: a 2021 LinkedIn survey of more than 3,500 B2B executives revealed that 47% had discovered and ultimately purchased from a non-market-leading company based solely on good thought leadership.
The fact is clear: well-honed opinions are rich currency in a rapidly changing market.
How do we do it?
Build it into the culture. We create systems that encourage people to share their individual thoughts and opinions with others regularly.
For example, Team Smart holds weekly pulse meetings where all team members present industry news in a rotation (two per meeting), giving each team member an opportunity to share their insights on a market trend. The ensuing discussion keeps us both informed and opinionated.
In 2023, we're going deeper and introducing a "SmartSpeech" series through which all team members are encouraged to write and give short talks on a topic of their choice. This program builds on a Ted-Talk-style event put on by our CEO earlier this year – watch that here.
How will it help your external communications?
Developing voices internally gives your leaders a chance to hone and shape their opinions before releasing them for public consumption.
By building internal thought leadership into your culture, you'll create an opportunity for regular discussion surrounding pressing topics and trends that can ultimately contribute to better corporate messaging and brand cohesion.
Naturally, your PR or communications agency partner can help you here. That said, a built-in culture that encourages internal thought leadership will push your company further faster.