Authored by: Jenn Quader, President and CEO
It's ICSC season and the excitement is palpable.
Meetings are set, party RSVPs are in, and everyone in the industry is ready to get together and make some DEALS.
We're back, baby.
So what can I add to this buzz of energy and excitement?
Something cool as heckfire that everyone in retail must experience.
There's no better example of the latest communications trends in retail real estate than Area 15 in Las Vegas.
This place is seriously cool.
Rather than describe it to you, I'll let its immersive art-world-meets-theme-park-meets-video-games-meets-enthralling-TV-show-or-movie environment speak for itself in this brief sneak peek video from our recent trip there: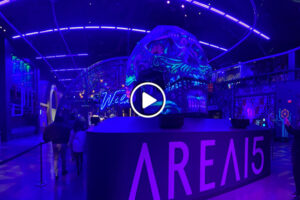 Click here to watch the full experience.
In the meantime, let's talk about what we can learn from Area 15 from the perspective of forward-thinking #commercialrealestate communications:
#1 World Creation is the Cat's Meow
If you are not yet on the world creation train, it's time to purchase a ticket.
Driven by a surge in video games and major trends like the emergence of the Metaverse, retail real estate is now more centered on storytelling and emotional engagement than ever before.
Look, honestly – I'm not into video games. At all. But a lot of people are. In fact, a recent report by the Entertainment Software Association (ESA) showed that 67% of U.S. adults are gamers, while 76% of American kids play video games.
And even those of us who are not gamers can't help but be swept away when immersed in a world of art and storytelling that is actually captivating.
World creation is certainly a physical commercial real estate trend, yet it is also driven by PR and communications. One example: the way retailers communicate with consumers is changing.
This goes beyond the "now we have to be both online and in person" discussion we all know. What I'm talking about is a new depth of storytelling and emotional connection in retail.
The post-2020 consumer wants (and requires) compelling backstories, characters, and a deeper connection to the narrative that sweeps them through today's immersive retail and retailtainment venues. Remember, this is "The Content Generation." We've all got 47 shows in line to binge across 12 different streaming apps. To get us out of those virtual worlds, you'll need some pretty darn enthralling real-world communications.
Area 15 does this in an incredible way – the venue has a series of back stories for which it has created journeys of content that visitors can explore as they see fit.
This creates a regenerative environment – a place people can come over and over again and experience different stories each time.
#2 There's More Than One Way to Work With Influencers
The cool kids know about Area 15.
How? Artists.
The confluence of art and commercial real estate is not new. Innovative developers and owners are weaving murals and street art into projects nationwide to bring life and cultural connectivity to their properties.
However, the integration seen at Area 15 takes this trend to a new level.
This is a retail destination co-created by creators. The result is art come to life, accompanied by a "whisper popularity" that rewards those in the know with influencer-marketing-level buzz.
This is also strategic communications at its best. Forget the old "blast it everywhere" approach. Find your most powerful stakeholders/advocates and focus on them. It's about cultivating a following that has the passion to take your destination forward.
#3: Cat's Out of the Bag: Playful Is In, and It Wins
Today's most successful new retail concepts merge experience, exploration, discovery, learning, games, and often humor. Area 15 does all this with flair.
Yet as Rod Tidwell so eloquently reminds us in the 1997 Oscar winner, Jerry Maguire, "show me the money." This is retail real estate after all. We have to protect investments.
The magic of Area 15 from my purview is its wide range of available (and malleable) income streams: admission, merch, rides, both virtual and physical, like indoor ziplining and premium slides, as well as food and beverage. This is at once an indoor family play park and a hip Gen Z hangout. (Tough to achieve.)
Monetarily, it seems to align with the mobile app income model – start free with outdoor art installations available to the public; pay to access the "world" inside, then pay incrementally for extras as you go. (Like power-ups in games.)
Overall, the concept has proven successful, and it's soon headed to Orlando. I expect we'll see it further expand from there. But that will take some time. So, if you'd like to be a "cool cat" who's in the know from the beginning, give Area 15 a visit while you're in town for ICSC.
*P.S. if you noticed (and hopefully enjoyed) the cat idioms, please note they are a nod to Area 15 Omega Mart's creator, Meow Wolf.